TONIGHT: DJ TrollD live in Ao Nang, Thailand
DJ Trolld - Thursday Feb 10th, 2011
Sorry for the late notice but I'm DJing tonight at this crazy outdoor party overlooking Ao Nang bay! If you're in the area definitely check this out! Free entry, some great tunes and a gorgeous setting, what more could you ask for?!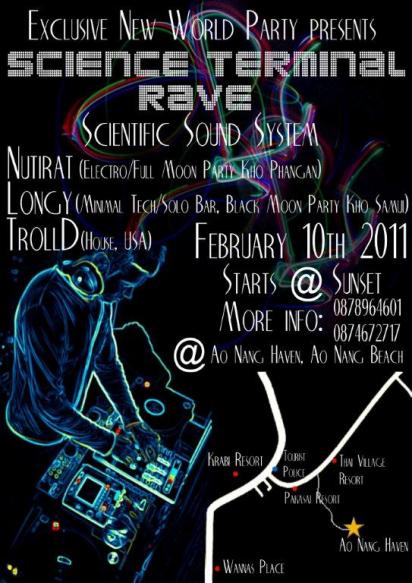 The party is actually at a private residence about 500m up a mountain (thus the awesome view), it is right near Krabi Resort and about 2 minutes from Luna Bar in Ao Nang. There are signs for it (that look like huge versions of the flyer). If you get lost call the #s for info.
DJ Trolld / uvMix LIVE
DJ Trolld - Thursday Mar 19th, 2009
Hey hey!! So it looks like the uvMix is going officially global!

This Sunday I'll be doing the first truly live uvMix @ Underground Bangkok's studio's right here in Thailand. Been working with the great guys over at UBRadio.net to make this happen, and I'm very happy to say: IT IS ON.

The agenda is 2 hours of live mixed house. I'm going to be dropping some mad science on your face.

Tune in Sunday 11am EST / 10pm ICT @ http://ubradio.net/. There is even a chat so you can send me a msg while we're in the mix.
Bangkok, Feb Top 20, and New Mixes!
DJ Trolld - Wednesday Feb 25th, 2009
Greetings from Bangkok, Thailand!

First off, the February's Top 20 Chart is up, almost in time for March!

Secondly, if you haven't already, check out my latest two mixes: 1,000 Year Orbital Decay - a deep progressive house mix with lots of slow mixes ... guaranteed to put you into deep orbit!

And do not miss my latest mix House Kiss, a fast paced progressive/disco-y house mix .. loaded with tons of remixes and mash-ups, 2 DJ Trolld exclusives as well!
November 2008 Chart!
DJ Trolld - Tuesday Nov 4th, 2008
Ahhh! It feels good to finally get a new monthly chart up for November! Featuring Justice (D.A.N.C.E. remix FTW), Elektronique (kickin' beats), Clinque (down and dirty bass), Nonion Breed (deep and dirty bass) and lots more of good stuff I've been bumping over the last few months.

It is also loaded with some filthy remixes by Matt Samuels (Enjoy the Silence remix), Richard Grey (Thriller & No Deputy remixes), Peaches & Tone Loc (Wild Thing remiex) as well.

All I have to say is: Good stuff, keep it up ;-D!
DJ Trolld is Big In Japan
DJ Trolld - Saturday Oct 18th, 2008
I'm finally getting situated in my apartment here in Tokyo, and in case you missed it, have started releases new weekly mixes. Goodbye Tears is a diverse mix of house styles with some breaks at the end to lay down the bass.

While here in Japan I'm going to try to line up at least one DJ gig at a club ... interested in booking me? Click here to get in touch!
Remixin: Evolution of the remix!
DJ Trolld - Monday Jun 23rd, 2008
DJ Fingers (see previous post) has been involved in starting this awesome remix 'mutation' project called Remixin. Basically its broke up into rounds, each round is open to anyone remixing the previous round's remixes!

Definitely check it out, its all designed to be as friendly as possible, with full remix kits (everything broken up into separate tracks/samples) ... you have no excuse not to check it!

And if you're not into remixing yourself, you can also download people's finished remixes as well!
You know you're cool when ...
DJ Trolld - Monday Jun 23rd, 2008
You don't have time to update your own websites ;-D

What's up everyone, just droppin' a line to let you all (is this thing on?) know that yes I'm still alive and have been keepin' busy.

A few weeks ago I had the pleasure of playing at a going away party ... basically a filthy dance party in a huge garage. Pictures Are Up Here. Myself and DJ Fingers rocked it hard core! And like any good party it ended at 4:30am with the cops showing up hahaha. Ahhh. Good times!
DJ Trolld Live @ The Hop!
DJ Trolld - Wednesday Oct 24th, 2007
Hey Hey, long time no checkin' - I know! I've got a bunch of updates but the most pressing is this weekend I'm DJing the post-party for the
Eva Ayllon show at the Hop.

I'll be setting up at the "Top of the Hop" again, rollin' in with a few thousand watts of sound and dropping an energetic Latin mix as people groove and mingle after the show!

Hope to see you there!
DJ Trolld Live @ The India Queen / uvVIP!
DJ Trolld - Thursday Jul 12th, 2007
So the India Queen finished expanding into the neighboring space and has installed what I would describe as a high class chill-out lounge / dirty dancing area.

To kick it off I'll be joining the Nice Up! crew behind the decks this Saturday, July 14th for some dub and deep house!

Get the full details here of this awesome event, we'll be welcoming Ken back to the area for a visit as well!

Hope to see you there!
DJ Trolld @ Revolution - April 19th 3pm
DJ Trolld - Monday Apr 9th, 2007
I'll be back dropping the groove at Revolution in WRJ Thursday April 19th, starting around 3pm until about 6pm.

Revolution will be welcoming TOMs and I'll provide the sound track! Come by, check out the new store, listen to some tunes, and sip an espresso!
DJ Trolld Unthawed!
DJ Trolld - Tuesday Mar 13th, 2007
Check check check! Yes I am still alive, as you know if you've seen be around the Upper Valley recently.

I've been very busy finishing off my upcoming double mix CD, which I'm hoping to have finished before the snow melts completely!

I'll be updating my schedule, charts and other goodies over the next few days so stay frosty and check back shortly!
Climb Into The Taxi!
DJ Trolld - Friday Sep 29th, 2006
So this past month I ran across a kick ass track, "Boogie Makes a Splash" by Monster Taxi. Last week I dropped their new single, "Memory Whack", that is taking the dance floors by storm everywhere.

I've been talking with front man Jason, and you'll be hearing his voice starting this week doing promos for the uvMix!

Definitely check out his site and be prepared to hear more from this great artist!

World of Warcraft Addiction
DJ Trolld - Monday Sep 25th, 2006
Heh, so I'm not hooked myself but I definitely know a few friends who are total WoW fiends.

Enter one of the funniest tracks ever made by Basshunter Vi sitter i Ventrilo och spelar DotA. God bless our northern European brothers :D.
European Vinyl: Online - Booyah
DJ Trolld - Friday Sep 1st, 2006
Ahhh, last week I finished digitizing my haul of recordings I bought while I was in Europe... Just in time for my return at the end of this month :)

There is some great stuff I got which I haven't shared yet, but the first samplings debuted in my Fading Reign mix!

Stay tuned for some of my upcoming live appearances: Beerstock 2006 (Sept 16th) and the after party for Anoushka Shankar's performance in Spauding @ The Hopkins Center!
Last Chance @ The Canoe Club
DJ Trolld - Friday Aug 4th, 2006
Due to my travel schedule this Saturday (August 5th) will be my last appearance at the Canoe Club, for a while anyway.

So be sure to swing by and check out some of the new tunes I scored while in Europe, sip a cocktail, and shake your hips!
Back from Belgium!
DJ Trolld - Tuesday Aug 1st, 2006
And what a time I had out there!

I stayed in Ghent, a beautiful small city near the coast. Read about some of my adventures here. I cannot wait to return in October!

I'll be finally posting the past mixes (I need to work out a better system for when I travel) and there will be an all new show this week, stay tuned!
Trick & Kubic Video
DJ Trolld - Monday Jul 10th, 2006
A few months back Trick & Kubic released "Easy" featuring a singer by the tag of Valeska ... well .. her voice is hot, and Great Stuff has just cut a Music Video so you can see that she is just as hot, too.
July 8th BBQ / Dance Party @ DJ Trolld's House
DJ Trolld - Friday Jun 23rd, 2006
The subject says it all, but on Saturday July 8th you are all invited to come over, grill and enjoy a live rock band into the evening, and then into my basement ... which is being converted into a dirty, dirty night club. Once you are down there live DJs (myself and special guest DJ Synergy) and 3,000 watts of pumping sound will make you dance into the morning light!

This is your chance to meet fellow uvMix members, relax, dance, and have fun!
Boom Jinx: The Norwegian Persuasion
DJ Trolld - Thursday Jun 8th, 2006
I'm really feelin' this cat over in the Nordic teritories, a certain
Boom Jinx. He's been featured on a few shows already, including this week's. Definitely check out his site and drop him a line!
Panarchy Spin-Off Report
DJ Trolld - Wednesday May 31st, 2006
So this Sunday Panarchy at Dartmouth hosted an outdoor spin-a-thon. The sun was shining and the system was bumping ... what more could you ask for? DJ Droid and myself were in full effect, hitting the plentiful kegs almost as hard as the turntables. But thats another story.


| | |
| --- | --- |
| I love DJing outside :D | Droid lays it down fresh |

Many thanks to Panarchy for putting the whole thing on, it was super sweet to lay down the tracks and enjoy the UV summer comin in.

We also met a tight dartmouth DJ, a certain Mike Selvin aka DJ Mike. Check out his mixes, I'm crankin Function Control 2 at the moment, I suggest you do the same. I'm trying to bamboozel him into doing a set for the mix, stay tuned for more info on that!

The end of the month is coming, I'm starting to think about June's chart ... I've definitely got a bunch of new house to share on this week's show and at the Canoe Club this Saturday. So yeah, get ready for that.