DJ Trolld Live Sunday @ UBRadio.net
DJ Trolld - Thursday Mar 19th, 2009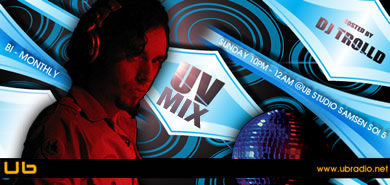 This Sunday marks my first Underground Bangko radio performance! I'm going to be bringing back the uvMix, Bangkok style.

The agenda is 2 hours of live mixed house. I'm going to be dropping some mad science on your face.

Tune in Sunday 11am EST / 10pm ICT @ http://ubradio.net/. There is even a chat so you can send me a msg while we're in the mix.
New Mix: House Kiss
DJ Trolld - Wednesday Jan 21st, 2009
Its been a while, but to make up for it I've got a JAM packed mix for you all!!

House Kiss features 17 tracks of house and house remix goodness!!

Featuring my own mix of Katy Perry's "I Kissed a Girl" (see the mix notes for more info), Wild Thing, Eminem, Thriller and other exclusive cuts!
Live From Tokyo!
DJ Trolld - Saturday Oct 18th, 2008
Yo yo! I'm back online from here in Setagaya, Tokyo!

I just released the first new uvMix in 9 months and am resuming weekly shows/mixes from here in Nihon.

This week's mix has a hefty mix of deep/electro/progressive house as well as some breaks. A lot of stuff to get you guys caught up to.

Coming up next week though I'm working on a much more focused mix ... stay tuned and enjoy!
Hot New Mix Tonight & Four Mixes Ready for Download!
DJ Trolld - Friday Jul 6th, 2007
The uvMix has been continuing despite radio silence over the past few weeks, and I've just released 4 mixes for your downloading pleasure here: http://www.uvmix.com/members/

TONIGHT we've got an all new progressive mix that is quite the creeper, with the latest cuts from The Emissary, Poison Dward Rick Pier O'Neil Boom Jinx, Nikola Gala and more!

TUNE IN TONIGHT! 10pm - 2am, only on the stations bumpin' the good stuff WXND 107.3 and WXGR 101.5!

Viva la Mix!
Welcome DJ Sancho Swift, Welcome Back DJ Droid!
DJ Trolld - Saturday Apr 7th, 2007
Last night you guys got your first taste of DJ Sancho Swift's diverse selection. Fear not, there will be more!

Swift will be joining myself (DJ Trolld) in producting weekly shows. I assure you, his style will vary ... but his commitment to quality will not!

And a big shout out to DJ Droid who dropped the first of many new shows to come last night as well. Its great to have you back bro!

If you missed all of this, then you're an idiot and need to listen to WXND 107.3 FM (In the upper valley) or WXGR 101.5 FM (Portsmouth/Dover), specifically 10pm Friday nights till 2am. 'Cause that's when we're on. You should however already be tuned into these great stations anyway. What is wrong with you? Do you like commercial radio?! Didn't think so. Snap to it with a quickness.

But fear not, past shows are available for download & Podcast, just hit up the members section and enjoy! Last night's show will be up shortly as well!